Ever since they were first introduced in the 20th Century, pontoon boats experienced some tremendous changes.
The first generation pontoon boats were basically a disaster, with manufacturers emphasizing on performance, while ignoring visual appeal and comfort. The boats were also painfully slow, and speeds of 30 MPH was just imaginable.
But this was during a long-gone era. With efficient technology, pontoon boats are now faster and more appealing. They also serve a variety of purposes – from recreational and fishing pontoon boats to racing pontoon boats.
4 Fast Pontoon Boats in the World
This list highlights four of the fastest pontoon boats available in the market. Most of the boats are twin-engine beasts that break speed records for fun.
These boats are also some of the best-rated pontoon boats – a cruise on them will leave you breathless.
These pontoon boats include The Manitou XPlode, The PlayCraft PowerToon Xtreme, The Berkshire Sports RFX9 3.0+ and the
1. The Manitou XPlode
It's quite hard not to notice a Manitou Pontoon Boat. Its unique shape and exquisite exterior will immediately demand your attention.
But don't let the beauty fool you. There is a reason why the boat is labeled "XPlode".
The Manitou XPlode Pontoon Boat is among the fastest pontoon boats ever designed. It is able to accelerate from 0-30 miles per hour in just 2 seconds.
This burst of speed is made possible by the top-of-the-line twin Evinrude 300 200-HP engines. These engines can power the 4,160-pound boat to top speeds of 60 miles per hour.
But what truly sets the Manitou XPlode apart from other pontoon boats is its pronounced V-shaped hull. This is made possible by having the center pontoon 5.25 inches below water, and gives the boat increased stability and sturdiness.
 This means that the pilot is able to maneuver sharp corners seamlessly even at top speed.
2. The PlayCraft PowerToon Xtreme
The PlayCraft PowerToon Xtreme – what a name!
But does this pontoon boat live up to its hype or is it just an overrated clumsy boat?
The boat's manufacturer is known for not holding back when it comes to offering performance and comfort.  In fact, the company's founder is sometimes referred to the father of performance pontoons boats.
The most recent offering, the PlayCraft PowerToon Xtreme, is no different and has certainly set new standards in pontoon performance.
With twin 400 HP Mercury Verado Racing engines driving Enertia 3-blade propellers, the PlayCraft PowerToon Xtreme reaches top speeds of 60 miles per hour and has a fuel capacity of up to 100 gallons.
And that's not even the best part – with a few renovations, this pontoon boat is even known to reach a top speed of a heart-stopping 104 miles per hour.
For easy handling while at top speed, this pontoon boat features special U-shaped pontoons that enhance stability.
3. The Berkshire Sports RFX9 3.0+
All the other entrants on the list have had twin-engines. But does this mean that only twin-engine boats are fast?
Not at all!
Introducing the single-engine Berkshire Sports RFX9 3.0+.
The engine, however, is no ordinary one. It's a 300-HP Mercury Verado FourStroke that powers the boat to attain a top speed of 50 miles per hour. The boat can also accelerate from 0-30 miles per hour in less than 7 seconds.
The four lifting strakes, three oversized tubes, and two spray rails guarantee you a smooth cruise where you can comfortably sip margaritas on board.
The Berkshire Sports RFX9 3.0+ has proven that record speeds are not exclusive to twin-engine pontoon boats. One-engine boats can be fast as well.
4. The Harris Crowne SL 250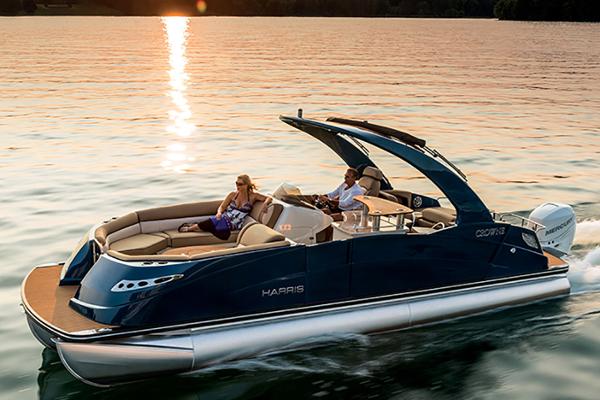 Another seriously fast pontoon boat is the Harris Crowne SL 250 Pontoon Boat.
Powered by a twin Mercury Verados 350-HP engine and 21-inch, 3-blade propeller, this is the most powerful pontoon boat from the Harris brand.
The pontoon boat has a top speed of 63 miles per hour. The powerful twin-engine enables the boat to accelerate from 0-30 miles per hour in just 6 seconds.
But the Harris Crowne SL 250 is not only about speed, but also comfort. It has a luxurious stern seating area with a comfy rear-facing lounge that many boaters cherish.
And that's not all, the Harris Crowne SL 250 has incorporated some awesome technology such a touchscreen digital dash that will make life much, much easier.
How Much are These Fast Pontoon Boats?
Surprisingly, none of these pontoon boats can be labeled as having an extravagant price.
With a budget of $100,000 to $200,000, you can be a proud owner of these fast water machines.
Whether you are looking for pontoon fishing boats or just one in which you can sunbathe all day, there a lot of fast boats for sale online. You can also purchase the boats straight from the manufacturer and get all the accessories.