You got a new boat. Congrats! Now you need a pick-up truck to hitch it to.
Pick-up trucks and boats go hand in hand. This is why you need a Ford towing guide. A sturdy Ford pick-up truck is often the best way to transport your boat when it's not on the water. Or, you might want to go with a more luxurious SUV. Even the Ford Flex towing capacity is quite decent at 4,500 pounds.
You definitely don't want to be pulling your brand-new prized speedboat on the back of a tiny Hyundai hatchback. Say goodbye to your boat if you do!
3 Major Benefits of Towing Your Boat on a Trailer
Having your boat on a trailer and hitched to your pick-up can actually make boating that much better. Even with a low Ford Edge towing capacity at 2,000, many small boats can still be towed with a trailer at the back. Here are a few reasons why you might want to go with a trailer:
1. Boat Trailers Can Save Money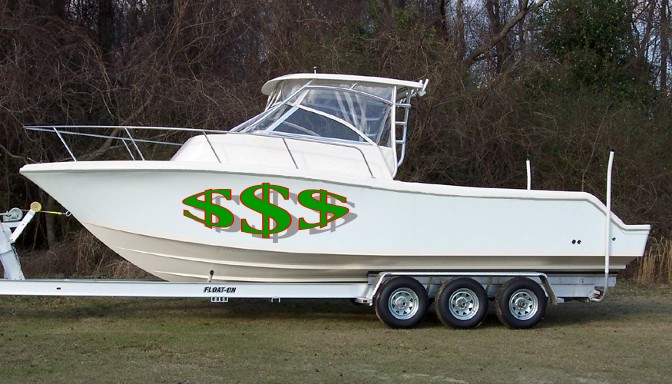 Once you know your Ford Ranger towing capacity, and you are assured it can handle your boat, you can save significant cash.
For starters, you can potentially store your boat at home instead of renting a boat slip, which can cost hundreds of dollars per month. If you are able to store the boat in your own garage, you can save even more by not having to pay for a cover for the boat.
If you can't store your boat at home, you might still be able to find a better price at a local storage business instead of at a higher-priced marina.
You can also fill up your boat's gas tank at the regular (land) gas station. Gas at marinas will almost always be more expensive.
2. Boat Trailers Give You More Boating Options
If you are fortunate enough to have a local public boat launch near you, you can be off and in the water without paying those high marina fees.
If you are even luckier, you might have a wide variety of launches to choose from. This gives you many new places to explore instead of always setting off from the same boat slip at the same marina.
You can also travel with your boat to different states or possibly even countries.
3. You Can Move Your Boat Yourself
Just imagine, if you didn't have, for example, the towing capacity of a Ford F150. You'd have to hire someone to move your boat for you. Not only can this cost add up over the years, you are putting your boats in the hands of someone else.
If you are lucky, you'll get a company that is careful and cautious. If not, you could get your boat damaged by careless people who may not even like being out on the water themselves.
Make Sure You Have the Right Boat Towing Setup
No products found.
Whether you have a Ford or other type of pick-up or SUV, make sure you have the right setup. You want to make sure your trailer hitch is properly attached to your vehicle. A Trailer Life towing guide that comes with your car or trailer hitch may provide more detailed information.
You also want to make sure your truck or car can handle the load being towed. Often, finding this out is as easy as typing in something like "towing capacity f150" into a search engine, although you will usually get better results by including the make of the car (Ford).
You can find online calculators that will tell you how much capacity your particular truck model has. For example, if you want to know the Ford F350 towing capacity (two-wheel drive), "Your Guide to Towing" offers this information:
Year         Make      Model    Engine   Tow Limit              Notes
2016      Ford        F-350 Crew Cab DRW 2WD            6.2L V-8                  12,500lbs
2016      Ford        F-350 Crew Cab DRW 2WD            6.2L V-8                  15,500lbs
2016      Ford        F-350 Crew Cab DRW 2WD            6.7L V-8 TD           19,000lbs
(You can also view results by trailer weight.)
Remember: Towing capacity is not just the weight of the boat. It includes the weight of the boat trailer, as well as the passengers and all the gear in the car or truck itself.
Tow Your Own Boat for More Fun
With your very own Ford pick-up truck or SUV, and a boat trailer hitched behind it, you are ready for summer fun. You can take your boat to the local boat launch, or go on a road trip to visit that mountain lake you always wanted to fish in. Enjoy!
Last update on 2022-12-15 at 04:39 / Affiliate links / Images from Amazon Product Advertising API