Runabouts are usually used to describe maneuverable and fast powerboats, but many boat enthusiasts don't know just how many styles are out there, and how different (or similar) they are.
One thing is for sure though, this ubiquitous bowrider is the epitome of feel-good boating.
Factors to Consider Before Buying a Runabout Boat
When looking for the perfect runabout, you need to consider a lot of aspects. Before picking the first runabout that you come across, here are some crucial questions that you should ask yourself:
How many people do you want on your boat? Runabouts boats come in various sizes – from couple-sized to a large family size which holds up to 13 people.
What's your main reason for buying the runabout? Is it for water sports? Excursions? Leisure? Fishing?
What kind of water conditions will you be boating in? Is it the ocean or lake?
How important is boat handling and speed important to you? Runabouts are like the sports cars of the water, but they can also be economical. It depends on the one you choose.
How clean do you like your boat? It is important that you choose a runabout that has a fiberglass deck instead of a carpet because it's easier to clean and maintain.
Do you have kids? If you do, ensure you get a runabout with an enclosed head compartment and tall gunwales for enhanced safety.
6 Runabout Boats for 2022
1. Starcraft MDX 201
Starcraft knows that boaters love the original beauty and charm of decking boats and that's what they try to focus on when building their different models.
The MDX is no exception. This bowrider has an open design that is family-friendly and creates a lot of space for socializing. Even with its size and shape, the MDX still retains the performance and handling capabilities of a powerful runabout.
2. Bayliner VR5
Ever since its release, the VR5 has been making waves.
Unlike all the other under-20-foot class bowriders, the VR5 is all-composite construction, has a self-bailing cockpit, and is a lot more spacious. In addition, it has far much better handling, stability, and comfort. You'll want to spend your whole vacation on this boat.
One of the best aspects of this boat is its price – it's actually less expensive than the 185 Bowrider and the Bayliner Capri models that it replaced.
3. Tahoe Boats 2018 700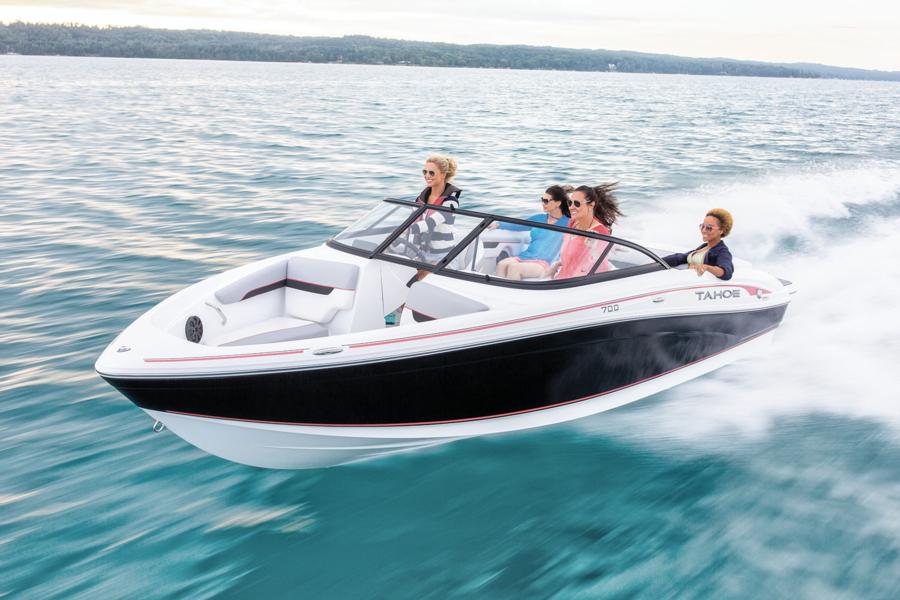 TAHOE recently announced the 2018 700, and boat enthusiasts all around the world are excited.
This new runabout flagship is 18' 5" and capable of holding up to eight people. It's also nimble, fun, sleek, dashing, comfortable, and convenient – the perfect power sports boat to show your crew a good time.
4. Formula 310BR
If you love fast boats, then Formula runabouts should definitely be on your wish-list. These sports boats are solid, satisfying, and powerful, and the 310BR is no exception.
Its twin Mercruiser engine enables the boat to run at a maximum speed of 51 MPH, with an acceleration of 0-30 MPH in just seven seconds.
5. Cobalt 26SD
The Cobalt 26SD is not your ordinary bowrider.
Its pickle-fork design gives it a half-bowrider, half-deckboat look. The design also offers additional room in the cockpit (7'7" wide).Even though there are a lot of deckboats that are this spacious, not many runabouts can achieve this expansivity.
The 26SD is also known for its exemplary exterior finish and fine detailing. Its powerful engine which ranges from 300HP V8 to 430 horses makes things even better.
6. Bryant Calandra
The Calandra is a 23 footer runabout that comes will all the bells and whistles.
From the one-piece fiberglass deck and the French-stitched upholstery to the convertible rear sun pad and an enclosed head compartment, it is easy to see why this runabout is above the $70,000 price range.
The details of this bowrider have been honed to near-perfection. But what about its performance?
With and top-end speed of 51.5 MPH, seamless handling, and great power, the Calandra is one of the best things that hit the seas this year.
Choose Your Runabout Boat Wisely
There's a rather outdated and tired notion that a runabout is a shallow and lightweight boat in which more attention is paid to its peripheral accessories and style than to its performance.
That's absolutely not true.
In fact, the classic runabout embraces the needs of family boaters by having fairly shallow hull angles to increase the inboard space and maximize the boat's running efficiency. The runabout also has an open bow design that enables the occupants to enjoy the sun.
A runabout should be versatile, sociable, and stylish with an easy-running hull. The more it satisfies these credentials, the better.
Nonetheless, different runabout models have different capabilities to fit the needs and preferences of different users. Whether you love speed, or comfort, or both, there's always something for you.