When you think about pontoon boats, what comes to mind?
A stodgy, slow boat made for quiet cocktail hours as opposed to a rocking boat party?
Well, this reputation is fast changing. Today, many pontoons offer incredible speed, great handling, tremendous performance, and the ability to be used as towboats for wakeboarding and skiing.
Even with these enhancements, the pontoon boats haven't abandoned their original features and strengthens. They still offer comfort and their amenities are even more plush and diverse.
If you are thinking of getting behind the wheel of one of these bad boys, here are some of the best pontoon boats this year (no particular order):
Best Rated Pontoon Boats of 2022
1. Veranda Vertex 22 RFL
The Vertex 22 RFL is well-built and feels sturdy in rough waters even at its top speed.
The deck is built with interlocking aluminum that is reinforced with aluminum tubes. This means that your pontoon, will never warp, will never rot, and feels solid underfoot. This stout construction translates into a remarkably smooth ride.
And with its powerful Yamaha outboard, you can hit a top speed of 40 MPH. You can never get enough of this water beast.
2. Bennington 168SL
Greats things come in small packages – and the Bennington 168SL is one of them.
With its convenience, comfort, and space, it's not a surprise that this 17' 4.5" pontoon is rated one of best small pontoon boats. It boasts a rear lounge seat that surrounds a pedestal-mount table that forms a perfect lunch spot. You can also rotate the helm bucket seat and create room for quiet conversations with your family and friends.
At the bow, the twin-lounge offers sufficient space for you to enjoy the sun rays and the fresh outdoor air.
The 168SL has a seating of seven people and a maximum power of up to 40 HP. It's perfect for you and your family.
3. Sun Tracker Bass Buggy 16 DLX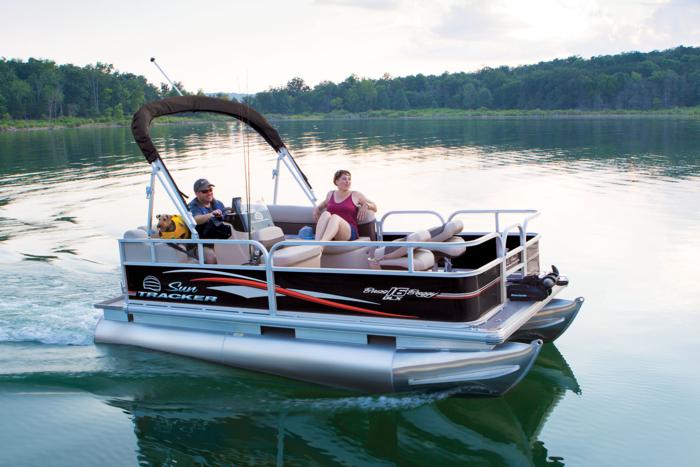 If your budget is tight but would still like to own a luxury pontoon boat, then it'll be a great idea to consider the Sun Tracker Bass Buggy 16 DLX.  With less than $20,000, you can be a proud owner of this masterpiece.
It comes with a 20 HP Mercury four-stroke engine that will work perfectly on rough seas, as well as fishing amenities such as a live well and rod holders.
4. Sylvan Mirage Fish 820
While many manufacturers offer fishing packages as optional pontoon boat accessories, others offer fishing specific models.
The Sylvan Mirage Fish 820 is one of the many highly rated fishing pontoon boats.
It comes with an inbuilt live well and four pedestal-mount fishing seats. Its small and compact size allows it to sneak into shallow back bays where you can get a good variety of fish. The fishing station has rod holders, rod storage racks, and a measuring scale.
This 20' 10" pontoon also has a nice Bimini to where you can relax and escape the summer sun.
5. Quest Luxury Series 818
With a diminutive (but very powerful) Honda BF100 engine, the Quest Luxury Series 818 has a top-end speed of 30 MPH. This 18'5" and 7'7" boat is easy to tow and well-equipped with everything you may need at sea.
The quality of the interior is far the best thing about this pontoon. The upholstery is Comfort Touch and the console is molded fiberglass. It also has Duralight composite seats, Italian-designed steering wheel, LED lighting, as well as a Bimini top with a boot.
This is quality pontooning at its best!
6. Premier Sunsation 270 Walk-On
This Premier pontoon's unique double-decker design and integrated waterslide make it stand out.
However, there have been some complaints on some creaking noise at the second story when the pontoon is running. But what do you expect blasting through a speed of 54 MPH? Yes, 54 MPH!
And what's even more impressive is the boat's sturdiness at these incredible speeds and in rough sea conditions. The boat's handling qualities are just exemplary.
The Sunsation 270's interiors are just sensation. It has a leather-stitched hem with faux-carbon accents that give the boat a rich feeling and an incredible lounge-heavy layout.
Don't forget it has a built-in waterslide!
7. Manitou 23 Encore SR VP
From quality welds and cool-touch fabrics to molded fiberglass seats and pillow-top backrests, this Manitou pontoon is a must-have for any pontooner is looking for fun and comfort at sea.
Regardless of the boat's high-end price, it has some of the best upholstery and furniture on a pontoon. And let's not forget its powerful Yamaha VMAX outboard.
Enjoy the Water on the Best Pontoon Boats
Whether you love fishing, hanging out with friends, or sunbathing, there's always that one pontoon that will work for you. Before buying a pontoon, however, it is important to consider factors such as performance, space, and other the featured amenities.
Happy pontooning!